UnitedHealth Group Incorporated


UNH

continues to benefit from sustained top-line growth, robust Medicare and Medicaid business in place, an upbeat financial view for 2021 and 2022, and a solid financial position.
Zacks Rank & Price Performance

UnitedHealth Group carries a Zacks Rank #3 (Hold) currently. You can see


the complete list of today's Zacks #1 Rank (Strong Buy) stocks here


.
The stock has gained 43.8% over a year compared with the

industry

's rally of 40.1%. However, the Zacks

Medical

sector has lost 7.2% in the said time frame. The S&P 500 composite has risen 28.6% in the same time frame.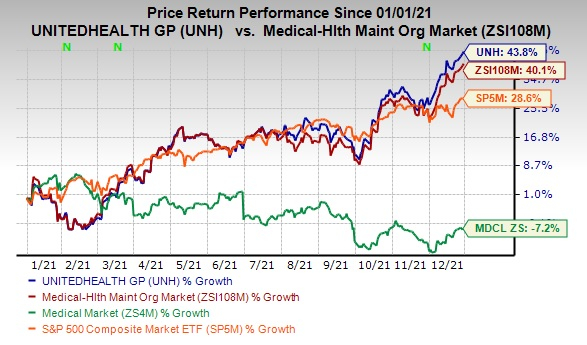 Image Source: Zacks Investment Research

Style Score

UNH is well-poised for progress as evident from its impressive

VGM Score

of B. Here V stands for Value, G for Growth and M for Momentum, with the score being a weighted combination of all three factors.
Impressive Earnings Surprise History

UNH boasts an impressive earnings surprise record. It has surpassed earnings estimates in each of the trailing four quarters, the average surprise being 8.66%.
Positive Estimate Revision

The Zacks Consensus Estimate for 2022

earnings

has been revised upward by 0.7% in the past 60 days.
Solid Return on Equity

The ROE of UnitedHealth Group for the trailing 12 months is 23.1%, which remains higher than the industry average of 20.2%. This reflects UNH's efficiency in utilizing its shareholders' funds.
Solid Financial Outlook for 2021 and 2022

UnitedHealth Group recently issued an upbeat business outlook for 2021 and 2022, which reinstates ample growth prospects for the healthcare provider.
For 2021, UNH anticipates revenues to be roughly $287 billion, which suggests growth of 11.6% from the 2020 reported figure. The metric is expected to increase and lie within the $317-$320 billion in 2022. The Zacks Consensus Estimate for 2022 revenues indicates an increase of 10.9% year over year.
Regarding the bottom line (adjusted net earnings per share), UnitedHealth Group projects the metric between $18.75 and $18.90 in 2021. The mid-point of the revised guidance indicates an 11.5% rise from the 2020 reported figure. The bottom line is likely to grow and remain within $21.10-$21.60. The consensus mark for UNH's 2022 earnings indicates an improvement of 15.3% on a year-over-year basis.
Business Tailwinds

Strong contributions from its UnitedHealthcare and Optum businesses continue to drive UnitedHealth Group's revenues. Both the units strive to offer patient-focused healthcare services at affordable costs across several U.S. communities and pursue the strategy of teaming up with well-established care systems to provide the same.
UNH has solid Medicare and Medicaid businesses in place through which it has been devising cost-effective health plans and extending reach across inaccessible regions. A well-diversified healthcare suite and solid nationwide presence have led to several contract wins and deal renewals for UnitedHealth Group. In 2021, some of the states that have chosen UnitedHealth Group for serving members include Ohio, Hawaii and Oklahoma. Such deals continue to bolster the company's customer base.
An aging U.S. population favors Medicare Advantage plans, which is likely to continue driving the solid demand for UNH's Medicare plans. In 2022, UnitedHealth Group aims to widen its service area and reach 94% of Medicare consumers spread across the United States. This endeavor will sustain UNH's record of holding the industry's largest Medicare Advantage presence.
The Global business of UnitedHealth Group that earlier grappled with the unanticipated deferral of care due to the COVID-19 pandemic seems to be recovering. Following a dismal period in 2020, membership of the business bounced back with a rise from the second quarter of 2021.
A strong cash position enables UNH to effectively serve short-term debt obligations. Additionally, robust cash-generating abilities allow UnitedHealth Group to pursue significant business investments and tactical capital-deployment moves via share buybacks and

dividend

payments. Its dividend yield of 1.2% remains higher than the industry's figure of 1%.
Stocks to Consider

Some better-ranked stocks in the medical space include

Axcella Health Inc.


AXLA

,

Cerner Corporation


CERN

and

Molina Healthcare, Inc.


MOH

, each carrying a Zacks Rank #2 (Buy) at present.
Axcella Health has a trailing four-quarter surprise of 0.64%, on average. The Zacks Consensus Estimate for AXLA's 2022

earnings

suggests 3.3% year-over-year growth. The consensus mark has also moved north by 1.2% in the past 30 days. Axcella Health has a

Momentum Score

of A.
The bottom line of Cerner outpaced estimates in each of the trailing three quarters and met once, the average surprise being 3.21%. The Zacks Consensus Estimate for CERN's 2022

earnings

suggests 11.6% improvement year over year, while the same for revenues implies growth of 4.8%. Cerner has a VGM Score of A.
Molina Healthcare has a trailing four-quarter surprise of 4.00%, on average. The consensus estimate for MOH's 2022

earnings

indicates an improvement of 27.3% from the prior year reported figure, while the same for revenues suggests a 12% rise from the year-ago reported figure. The expected long-term earnings growth rate is pegged at 21.1%, better than the industry's average of 15%.  Molina Healthcare boasts of a VGM Score of B.
While Axcella Health stock has lost 60.3% in a year, shares of Cerner and Molina Healthcare have gained 18.7% and 50.8%, respectively, in the same time frame.

Zacks Top 10 Stocks for 2022

In addition to the investment ideas discussed above, would you like to know about our 10 top picks for the entirety of 2022?
From inception in 2012 through November, the

Zacks Top 10 Stocks

gained an impressive +962.5% versus the S&P 500's +329.4%. Now our Director of Research is combing through 4,000 companies covered by the Zacks Rank to handpick the best 10 tickers to buy and hold. Don't miss your chance to get in on these stocks when they're released on January 3.

Be First To New Top 10 Stocks >>

Want the latest recommendations from Zacks Investment Research? Today, you can download 7 Best Stocks for the Next 30 Days.

Click to get this free report


To read this article on Zacks.com click here.