Earthstone Energy, Inc.


ESTE

has witnessed upward earnings estimate revisions for 2021 and 2022 in the past 60 days. Also, the upstream energy company's stock price has increased 89.8% year to date versus the

industry

's surge of 85.2%.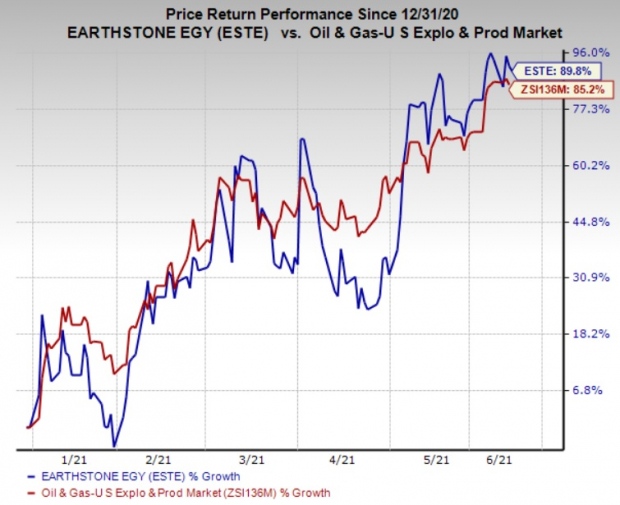 Image Source: Zacks Investment Research

Factors Favoring the Stock

The price of West Texas Intermediate crude, trading at more than $69 per barrel mark, has improved drastically from the pandemic-hit April of 2020 when oil was in the negative territory. With the coronavirus vaccines being rolled out at a massive scale, the demand for fuel will possibly improve further. This has paved the way for further oil price recovery.
Overall, the massive improvement in oil price is a boon for oil explorers and producers. Earthstone Energy, having a strong footprint in the Midland basin of west Texas and the Eagle Ford trend of south Texas, is well-placed to capitalize on the favorable pricing scenario. Most importantly, by hedging roughly 88% of 2021 oil production, the company has not exposed itself to volatility in oil prices.
Moreover, Earthstone is focused on cost-reduction initiatives, boosting its bottom line. Notably, from 2016 through the March-end quarter of 2021, the company's operating expenses (comprising lease operating expense per barrel of oil equivalent & cash general, and administrative expense per barrel of oil equivalent) in the Midland basin declined roughly 48%.
The upstream firm carrying a Zacks Rank #2 (Buy) at present, also has a strong balance sheet. In fact, the company's balance sheet has lower debt exposure as compared to composite stocks belonging to the industry. Notably, it has total liquidity of approximately $253 million, considering $251.6 million of undrawn borrowing base capacity and $1.4 million in cash.
Other Stocks to Consider

Some other top-ranked players in the energy space are

Whiting Petroleum Corporation


WLL

,

Callon Petroleum Company


CPE

and

Oasis Petroleum Inc.


OAS

. All companies currently sport a Zacks Rank #1 (Strong Buy). You can see


the complete list of today's Zacks #1 Rank stocks here


.
Whiting Petroleum has witnessed upward earnings estimate revisions for 2021 in the past 30 days.
Callon Petroleum is expected to witness earnings growth of 129% in 2021.
Oasis Petroleum has witnessed upward earnings estimate revisions for 2021 in the past 30 days.
+1,500% Growth: One of 2021's Most Exciting Investment Opportunities

In addition to the stocks you read about above, would you like to see Zacks' top picks to capitalize on the Internet of Things (IoT)? It is one of the fastest-growing technologies in history, with an estimated 77 billion devices to be connected by 2025. That works out to 127 new devices per second.
Zacks has released a special report to help you capitalize on the Internet of Things's exponential growth. It reveals 4 under-the-radar stocks that could be some of the most profitable holdings in your portfolio in 2021 and beyond.


Click here to download this report FREE >>


Want the latest recommendations from Zacks Investment Research? Today, you can download 7 Best Stocks for the Next 30 Days.

Click to get this free report


To read this article on Zacks.com click here.