Delek US Holdings, Inc.


DK

is a diversified downstream energy company with an impressive profile of strategically located assets. Its refineries have a combined crude throughput capacity of 302,000 barrels per day. The company also owns approximately 250 convenience stores in Texas and New Mexico locations as well as substantive logistics assets.
Normally, one would think that with economic recovery picking up steam, an energy company like Delek should be an attractive investment option amid a positive demand backdrop. But our analysis suggests otherwise.
The refining segment is the main contributor to Delek's revenues and things in this space are not great right now. While refining fundamentals have certainly brightened up from last year, the sector is not yet out of the woods in terms of cash flows that remain anaemic and well below the pre-crisis levels. There are also jitters associated with the proliferation of the Omicron variant, which has spurred renewed curbs by governments to check its spread, posing a risk to consumption. This will not only affect refining profitability but also result in increased price volatility.
Delek's earnings revisions have also trended in the wrong direction over the last 60 days, as analysts have consistently taken down their numbers. As a matter of fact, the Zacks Consensus Estimate for Delek's 2021 loss has widened from $3.18 to $3.23 over the past 30 days, while next year's number is off from a profit of 74 cent per share to 43 cents.
Furthermore, Delek is involved in a proxy battle with Carl Icahn's

CVR Energy


CVI

, the owner of 15% of Delek's outstanding common stock. CVR is pushing the Brentwood, TN-based firm to separate some of its assets to unlock more shareholder value.
On the other hand, Delek sees CVR Energy as a competitor engaged in the business of petroleum refining and marketing that wants to further its own interests at the expense of Delek. We believe that a meaningful stock overhang is likely to remain unless the issue is resolved.
Besides, stock prices of refining companies are notoriously volatile. As such, shares of Delek may not be suitable for investors who are not comfortable with often substantial day-to-day volatility. In fact, Delek's beta of 2.21 means that the company is significantly more volatile than the overall market.
All of this makes Delek a challenging stock. Despite the rally in oil prices, shares are down about 45% from a 52-week high of $27.38 hit on Feb 24. It has also underperformed the industry in a year (-6.3% versus +31%).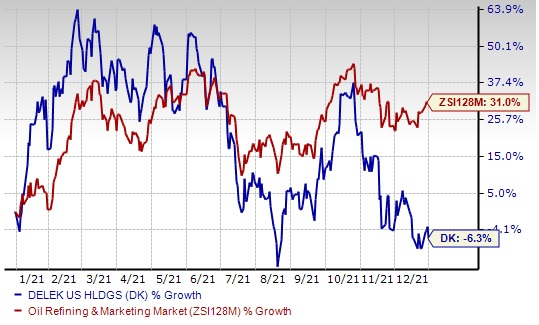 Image Source: Zacks Investment Research

However, it is not all gloom and doom. The company's retail segment seems to be a bright spot. Since 2016, the unit's adjusted earnings per store have witnessed a CAGR of 18%. What's more, Delek plans to add another 50 stores by 2025 to double its segment earnings to $100 million. Investors should know that the company is one of the largest licensees of 7-Eleven convenience stores in the U.S. Delek has also managed to turn the tide with a positive cash flow of $210.2 million in the first nine months of this year after reporting a negative figure in 2020.
On another positive note, Delek maintains good liquidity based on availability under its committed revolving credit facility. At Sep 30, the company retained $721.7 million that can be used for operational purposes with maturity in March 2023. Delek also has $830.6 million of cash and its term loan, which is where most of its debt is held, doesn't mature until 2025.
Then again, Delek's financial metrics indicate that its leverage sits toward the top end of the high territory and is a massive negative for its shareholders. The debt burden of the company stood at $2.2 billion at the end of the third quarter, which translates into a debt-to-capitalization of 69.4% — a significant deterioration from 53% at the end of 2019 (before the downturn) and well above the sub-industry's 44.3%.
In conclusion, investors are advised not to add or sell the stock at current levels. That's what is making Delek a Zacks Rank #3 (Hold) at the moment.
Key Picks

Some better-ranked players in the

energy

space are

Earthstone Energy


ESTE

and

PDC Energy


PDCE

. Both companies sport a Zacks Rank #1 (Strong Buy). You can see


the complete list of today's Zacks #1 Rank stocks here


.
Earthstone Energy has a projected earnings growth rate of 112.2% for next year. The Zacks Consensus Estimate for ESTE's 2022 earnings has been revised 24.4% upward over the past 60 days.
Earthstone beat the Zacks Consensus Estimate for earnings in each of the trailing four quarters, the average being 93.2%. ESTE shares have gained around 108.1% in a year.
PDC Energy has a projected earnings growth rate of 29.2% for next year. PDC Energy's consensus estimate for 2022 has been revised 18.3% upward over the past 60 days.
PDCE beat the Zacks Consensus Estimate for earnings in each of the trailing four quarters, the average being 51.1%. PDC Energy has rallied around 142.9% in a year.

Zacks Top 10 Stocks for 2022

In addition to the investment ideas discussed above, would you like to know about our 10 top picks for the entirety of 2022?
From inception in 2012 through November, the

Zacks Top 10 Stocks

gained an impressive +962.5% versus the S&P 500's +329.4%. Now our Director of Research is combing through 4,000 companies covered by the Zacks Rank to handpick the best 10 tickers to buy and hold. Don't miss your chance to get in on these stocks when they're released on January 3.

Be First To New Top 10 Stocks >>

Want the latest recommendations from Zacks Investment Research? Today, you can download 7 Best Stocks for the Next 30 Days.

Click to get this free report


To read this article on Zacks.com click here.